TechnoSphere in The Independent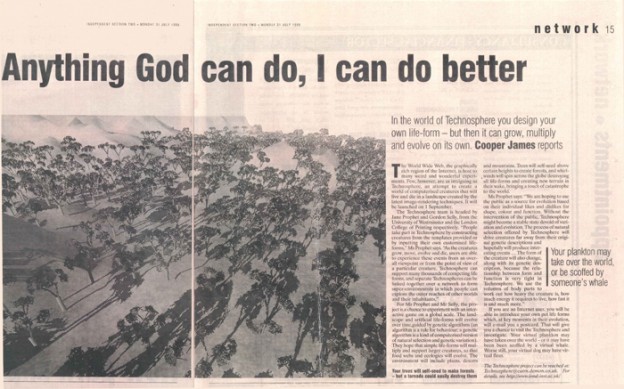 TechnoSphere was featured in the UK-based newspaper, The Independent, in 1995.
Author Cooper James' awed description of the TechnoSphere world can give you an idea of how unique this artificial life project was for its time. (Note his use of the term "World Wide Web," we don't hear that much these days!)

"The World Wide Web, the graphically rich region of the Internet, is host to many weird and wonderful experiments. Few, however, are as intriguing as TechnoSphere, an attempt to create a world of computerized creatures that will live and die in a landscape created by the latest image-rendering techniques. It will be launched on 1 September.

…If you are an Internet user, you will be able to introduce your own pet life forms which, at key moments in their evolution, will e-mail you a postcard. That will give you a chance to visit the TechnoSphere and investigate. Your virtual plankton may have taken over the world– or it may have been scoffed by a virtual whale. Worse still, your virtual dog may have virtual fleas."

In fact, there were no known cases of virtual fleas in the TechnoSphere world, but we love the way this writer let his imagination run wild!